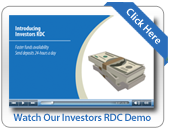 Investors' Remote Deposit Capture
Business doesn't end at 5 p.m., so why should your banking services? Investors Community Bank offers Remote Deposit Capture—it's like having our bank teller right in your office! Perfect for a business with multiple locations, one that receives large checks, one that receives checks through-out the month or that drives to the bank to make deposits. Remote Deposit Features:
Convenient! You make deposits 24/7, even on weekends.
Save Time! It's fast and easy to prepare deposits electronically and you can reduce labor costs.
Streamline Cash Flow! You make deposits from any remote office or store front and consolidate deposits from multiple locations.
Save Money! No courier fees needed, no trips to the bank needed either. May also result in lower processing fees.
Reduce Check Fraud! Checks clear faster so you're able to spot fraud and speed up collection.
More Secure! Multiple security layers include password authentication, internet firewalls and 128-bit encryption.

How does Investors' Remote Deposit Capture work?

Scan checks from a designated desktop using a desktop check scanner which scans both sides of the checks in a single pass.
Prepare the deposit by viewing images of the scanned checks right from your computer. The dollar amounts for the checks are automatically read and the deposit is totaled.
Electronically send deposit to the bank when you click SUBMIT DEPOSIT, the deposit is sent to the bank through a secure Internet connection.
Funds are deposited into your account without even going to the bank.
Get started today - It's easy!
Contact either our Manitowoc or Stevens Point locations for more information:
Manitowoc Phone: (920) 686-9998 or Stevens Point Phone: (715) 254-3400
Page Last Updated 06/01/2015