Investors Health Savings Account (HSA) is a tax-advantaged account that, in conjunction with a high-deductible health plan, can be used to pay for day-to-day eligible medical expenses. The Investors HSA works just like a regular checking account. You can either choose to write a check or obtain an HSA debit card to pay for qualified medical expenses. Your account features:
No minimum balance

No monthly maintenance fee 
Checks and/or debit card

Internet banking access

Monthly e-statements

Earn interest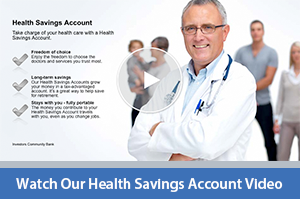 ICB Individual Retirement Account (IRA) Money Market is a flexible way to save for retirement. The ICB IRA money market is a tiered interest bearing account that provides the convenience and flexibility you're looking for. You can open this account with as little as $100, and interest is compounded daily and credited monthly to your account. No minimum balance or monthly service charges. Make deposits anytime from anywhere. In addition to visiting a branch, you can make deposits to your account quickly and easily through payroll deduction, online banking and mobile banking. 

Investors IRA Certificate of Deposit . When you change a job or consolidate accounts at one bank, there's often a need to roll over funds from other, larger IRAs. That's where this plan comes in. This plan offers a fixed interest rate, however additional deposits are not allowed until maturity. Minimum balance to open is $5,000.
For more information on our HSAs and IRAs, talk to a Personal Banker at a location nearest you. 
CLICK HERE for HSA and IRA interest rate information



Important information about procedures for opening a new account : To help the government fight the funding of terrorism and money laundering activities, federal law requires all financial institutions to obtain, verify and record information that identifies each person who opens an account. What this means for you: When you open an account, we will ask for your name, address, date of birth and other information that will allow us to identify you. We may also ask to see your driver's license or other identifying documents.